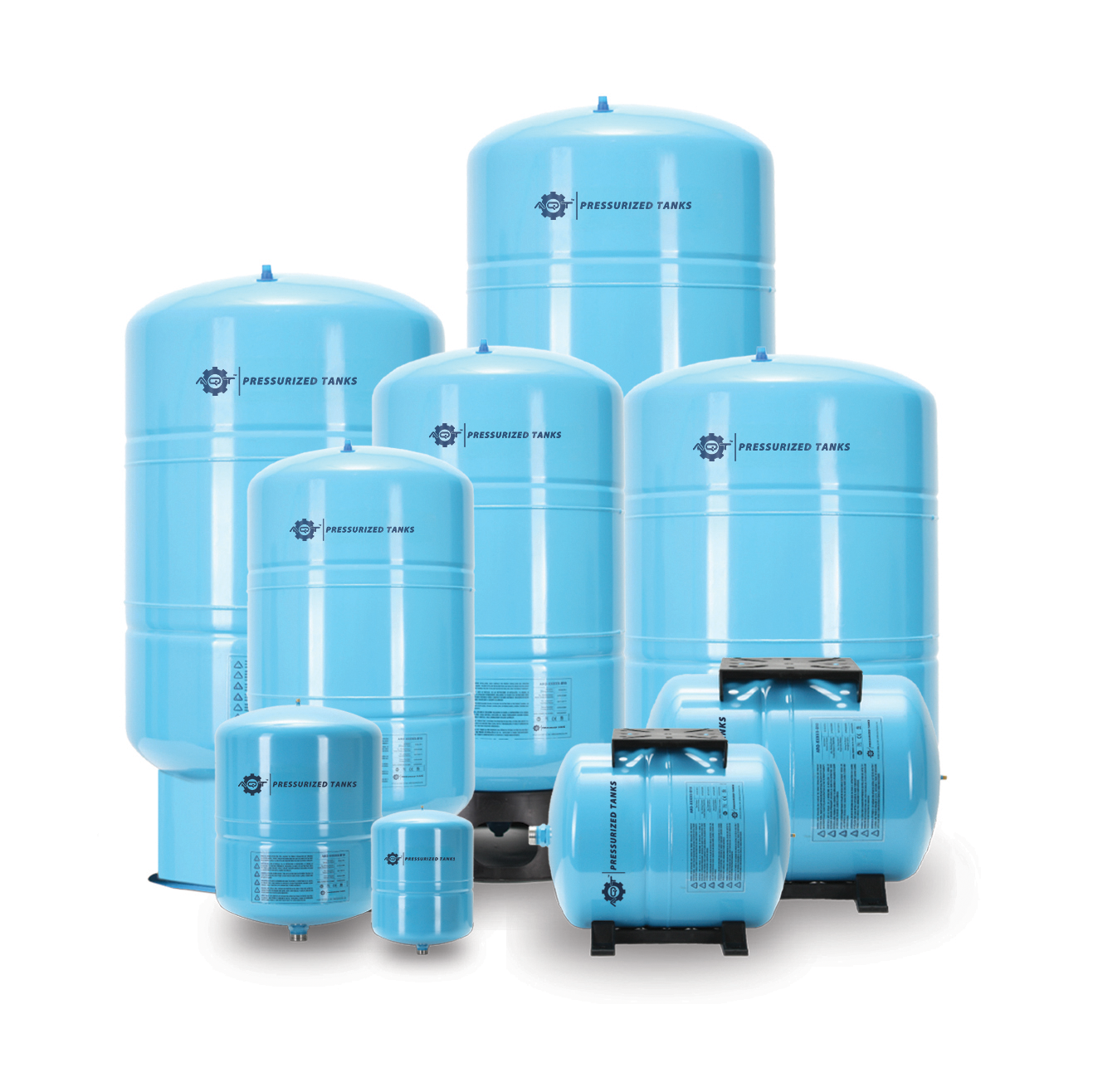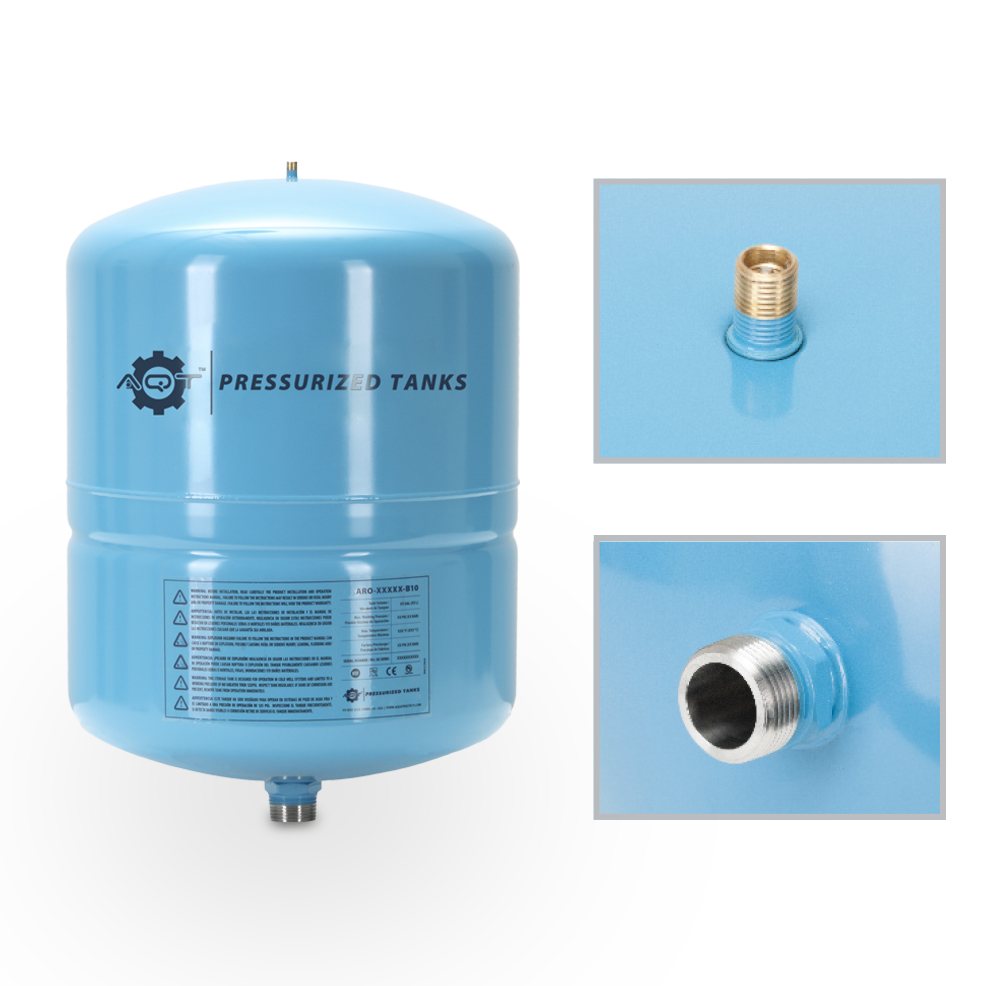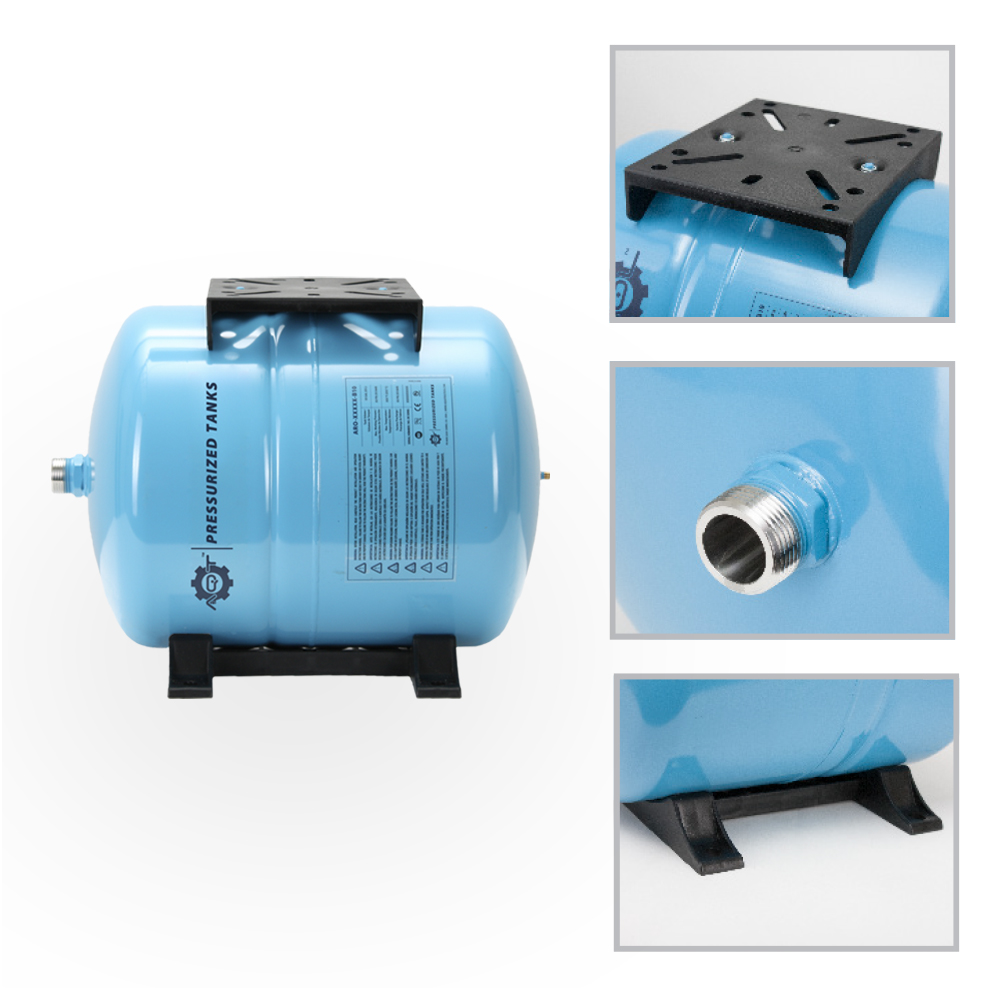 AQT™ HYDROPNEUMATIC PRESSURIZED TANKS
are an ideal product for well applications and for applications where you want to minimize pump start-ups every time you use water. When the pump fills the tank with water, the air above the diaphragm is compressed and the increased pressure inside the tank causes the pump to shut-off. Minimized pump starts and stops prevent motor damage due to excessive cycling of the pump, creates more consistent water pressure and provides savings through reduced energy use.
AQT™ HYDROPNEUMATIC PRESSURIZED TANKS
are constructed using high strength cold rolled carbon steel for added strength and painted with triple grade enamel making them extremely durable in outdoor applications.
AQT™ HYDROPNEUMATIC PRESSURIZED TANKS
come with stainless steel 304 NPT connections, offer a heavy-duty butyl rubber diaphragm and provide you with the peace of mind of an FDA grade polypropylene liner. This coupled with its 5-year warranty and durable design makes them the logical choice for industry professionals because of their cost to benefit ratio.
INLINE MODELS SPECIFICATIONS
Model Number
Tank Volume
Maximum Acceptance
Tank Diameter
Tank Height
Tank Connection
Tank Weight
(gal)
(L)
(gal)
(L)
(in)
(cm)
(in)
(cm)
(NPT)
(lbs)
(kg)
ARO-305I-B10
0.5
 3
0.25
 0.95
5.1"
 13
8.5"
 21.5
1"
2.6
1.2
ARO-82I-B10
2
 8
0.9
3.4
8"
20.3
11.4"
29
1"
5.5
2.3
ARO-1232I-B10
3.2
12
1.6
6.05
9.1"
23
15.4"
39
1"
7.5
3.2
ARO-1845I-B10
4.5
18
2.5
9.5
11"
28
15.4"
39
1"
8.5
3.7
ARO-246I-B10
6
24
3
11.4
11.6"
29.5
16.3"
41.5
1"
10.6
4.8
ARO-3810I-B10
10
38
5.2
19.7
11.6"
29.5
21.7"
55
1"
15
6.8
HORIZONTAL MODELS SPECIFICATIONS
Model Number
Tank Volume
Maximum Acceptance
Tank Diameter
Tank Height
Tank Length
Tank Connection
Tank Weight
(gal)
(L)
(gal)
(L)
(in)
(cm)
(in)
(cm)
(in)
(cm)
(NPT)
(lbs)
(kg)
ARO-1845H-B10
4.5
18
2.5
9.5
11"
28
12"
30
 15.4"
39
1"
10
4.4
ARO-246H-B10
6
24
3
11.4
11.6"
29.5
12.6"
32
16.3"
41.5
1"
12
5.4
ARO-3810H-B10
10
38
5.2
19.7
11.6"
29.5
12.6"
32
21.7"
55
1"
16.5
7.4
ARO-5814H-B10
14
58
11.3
42.8
15"
38.1
17"
42.5
22"
53
1"
24.5
11.1
ARO-8020H-B10
20
80
13
49.2
15"
38.1
17"
42.5
30"
73
1"
32.5
14.7
VERTICAL MODELS SPECIFICATIONS
Model Number
Tank Volume
Maximum Acceptance
Tank Diameter
Tank Height
Tank Connection
Tank Weight
(gal)
(L)
(gal)
(L)
(in)
(cm)
(in)
(cm)
(NPT)
(lbs)
(kg)
ARO-5814V-B10
14
 58
11.3
42.8
15"
38.1
23.6"
66
1"
24.5
11
ARO-8020V-B10
20
80
13
49.2
15"
38.1
30.7"
78
1"
32.5
14.6
ARO-10025V-B10
25
100
15
56.8
15"
38.1
39.2"
99.5
1"
40.5
18.4
ARO-12032V-B10
32
120
16
60
15"
38.1
44"
112
1"
50
22.7
ARO-13034V-B114
34
130
22.5
85
22"
55.9
29.5"
75
1 1⁄4"
54
24.5
ARO-16044V-B114
44
160
30
113.6
22"
55.9
36"
91.5
1 1⁄4"
61.5
27.8
ARO-23562V-B114
62
235
35.2
133
22"
55.9
45.7"
116
1 1⁄4"
83
37.7
ARO-30582V-B114
82
305
44
166.5
22"
55.9
57.1"
145
1 1⁄4"
104
47.1
ARO-450120V-B114
120
450
95.1
360
25.6"
65
55.2"
140
1 1⁄4"
135.6
61.5