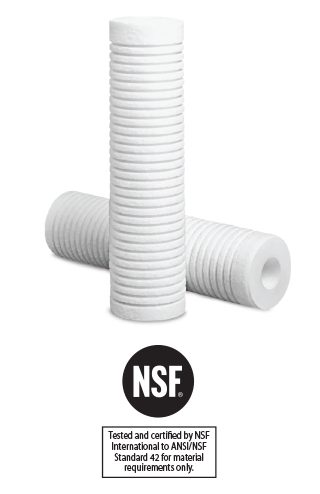 Special lengths, diameters and micron levels available upon request.
Hydronix SGC Series Sediment Grooved Cartridges

are a reliable and economical solution for pre filtration in many applications. Typically utilized for pre filtration in Reverse Osmosis systems and post filtration in GAC filters, Hydronix SGC Cartridges with their grooved design offer a larger filtration area for longer life and larger filtration capacity.
*For more detailed information, please refer to the product specifications sheet.
4.5" DIAMETER SPECIFICATIONS

Part Number
Description
Initial ∆P (psi) at Flow Rate (GPM)
Micron Rating
Case Quantity
Box Dimension (Inches)
Weight (lbs)
Weight (kgs)
10"
SGC-25-1001
2.5" x 9 7/8"
0.6 psi at 5 gpm (.04 bar at 19 L/min)
1
40
13 x 11 x 21
15
6.80
SGC-25-1005
2.5" x 9 7/8"
0.4 psi at 5 gpm (.03 bar at 19 L/min)
5
40
13 x 11 x 21
15
6.80
20"
SGC-25-2001
2.5" x 20"
0.4 psi at 10 gpm ( .03 bar at 38 L/min)
1
20
13 x 11 x 21
15
6.80
SGC-25-2005
2.5" x 20"
0.4 psi at 10 gpm ( .03 bar at 38 L/min)
5
20
13 x 11 x 21
15
6.80
30"
SGC-25-3001
2.5" x 30"
0.3 psi at 15 gpm ( .02 bar at 57 L/min)
1
20
13 x 11 x 31
22.5
10.21
SGC-25-3005
2.5" x 30"
0.3 psi at 15 gpm ( .02 bar at 57 L/min)
5
20
13 x 11 x 31
22.5
10.21
40"
SGC-25-4001
2.5" x 40"
0.3 psi at 20 gpm ( .02 bar at 76 L/min)
1
20
13 x 11 x 41
30
13.61
SGC-25-4005
2.5" x 40"
0.3 psi at 20 gpm ( .02 bar at 76 L/min)
5
20
13 x 11 x 41
30
13.61