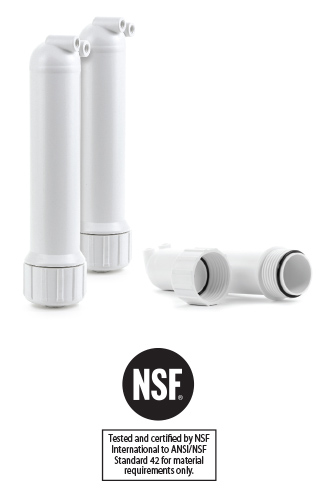 Housing: Polypropylene
Cap: Polypropylene
O-Ring: EPDM
Max. Temperature: 125 °F (51.7 °C)
Max. Pressure: 100 PSI (7 bar)
Hydronix MH03 Series Membrane Housings
are manufactured with high-quality NSF approved material and will accommodate most standard membrane elements.
The dual ring design ensures a leak proof connection.
Hydronix MH03 Series Membrane Housings
are NSF Standard 58 certified for use in Reverse Osmosis Water Treatment Systems. MH03 Series membrane housings are available in white and black to meet your system design needs..
* Certified model: MH03-1812WH.
MH03 SERIES SPECIFICATIONS

Part Number
Description
Case Quantity
Box Dimension (Inches)
Weight (lbs)
Weight (kgs)
Housing

MH03-1812WH
NSF, 1.8" x 12" Membrane Housing White
24
17 x 13 x 14
26
11.79
MH03-1812WH-QC
1.8" X 12" Membrane Housing White, Hydrofit™ QC, Double O-Ring
30
20 x 15 x 30
33
14.97
MH03-3012
3" X 12" Membrane Housing White
15
13 x 14 x 23
29
13.15
O-Ring

MH03-ORING
O-Ring for MH03 Housing
100
–
–
–
MH03-CAPORING
MH03 Housing Cap O-Ring
100
–
–
–