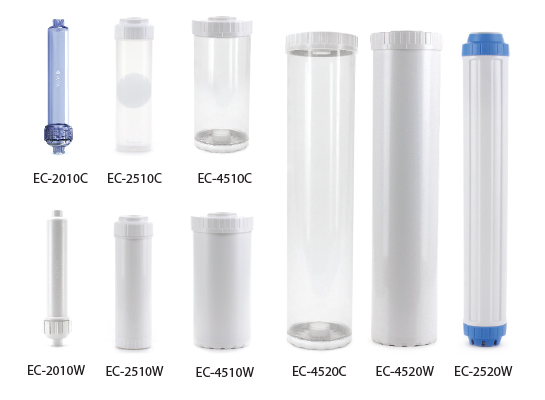 End Caps: High Impact Polystyrene
Gasket: Buna-N
Body: EC-4510W – High Impact Polystyrene (Hips)
EC-4510C: ABS
EC-2010C: SAN
Durable Construction
Excellent Flow Rate
Pre/Post Filter Media
2" DIAMETER SPECIFICATIONS – INLINE CARTRIDGES

Part Number
Description
Case Quantity
Box Dimension (Inches)
Weight (lbs)
Weight (kgs)
6"
EC-2010C
Inline, 2" OD x 10" L, 1/4" FNPT, Clear
25
17 x 17 x 11
9
4.08
EC-2010W
Inline, 2" OD x 10" L, 1/4" FNPT, White
25
17 x 17 x 11
12
5.44
2.5" DIAMETER SPECIFICATIONS

Part Number
Description
Case Quantity
Box Dimension (Inches)
Weight (lbs)
Weight (kgs)
10"
EC-2510C
2.5" OD x 10" L, CLEAR
25
17 x 17 x 11
9
4.08
EC-2510W
2.5" OD x 10" L, WHITE
25
17 x 17 x 11
9
4.08
20"
EC-2520W
2.5" OD x 20" L, WHITE
25
17 x 17 x 11
12
5.44
2.5" DIAMETER SPECIFICATIONS

Part Number
Description
Case Quantity
Box Dimension (Inches)
Weight (lbs)
Weight (kgs)
10"
EC-4510C
4.5" OD x 10" L, CLEAR
12
17 x 17 x 11
12
5.44
EC-4510W
4.5" OD x 10" L, WHITE
12
17 x 17 x 11
12
5.44
20"
EC-2520W
4.5" OD x 20" L, WHITE
6
14 x 9.5 x 21
12
5.44
EC-4520C
4.5" OD x 20" L, WHITE
6
14 x 9.5 x 21
12
5.44
*WARNING: Do not use with water that is microbiologically unsafe or of unknown quality without adequate disinfection before or after the system.
NOTE: It is recommended that you flush for 20 seconds prior to using the water for drinking or cooking purposes.
NOTE: Chlorine reduction is the estimate of capacity using 2 ppm free available chlorine (FAC) at continuous flow greater than 75% reduction.