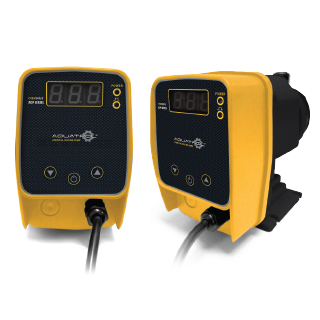 The pump should be used to dose the liquid which has been expressly designed to dose. Chemical compatibility of this pump with the following solutions is rated as good. For chemicals not listed, please contact your local representative or the factory.
Aquatrol™ ChemDose Chemical Dosing Pumps
are not only reliable, quiet and completely enclosed, the housing is chemical resistant and provides outstanding protection in outdoor or indoor applications. With its durable Teflon diaphragm and PTFE pump head you can rest assured that it will provide years of service with little to no maintenance. Stroke length and stroke speed can be manually adjusted and standard priming without removing tubing makes it easy to put into operation.
Aquatrol™ ChemDose Chemical Dosing Pumps
give you the flexibility to dose from 6GPD to 38GPD with one single pump. This offers greater versatility and convenience for a broad range of applications and puts you in control of your product applications with one single unit.
CHEMICAL DOSING PUMP – SPECIFICATIONS

Part Number
Description
ADP-01141-1
AQUATROL™ Dosing Pump, 110v, 60/50hz
ADP-01141-2
AQUATROL™ Dosing Pump, 220v, 60/50hz
CHEMICAL DOSING PUMP PARTS – SPECIFICATIONS

Part Number
Description
ADP-KOPKIT
Diaphram and Head with Check Valves (output and inlet)
Aquatrol will not be held responsible for damage deriving from improper use of the pump